Mangalorean Fish Curry is a beautiful fusion of coastal flavors, aromatic spices, and a tangy tamarind base that leaves you craving for more. The star ingredient, of course, is the freshest catch of the day, typically a firm-fleshed fish like pomfret, kingfish, or mackerel.
Coconut plays a crucial role here, adding a creamy texture and a hint of sweetness to balance the spices.
My grandmother would make one of the best fish curries. My sister, being a lover of seafood, one day watched the preparation and also measured the ingredients going into it (My grandmother would take ingredients by hand – a little of this & a little of that!). That's how I got this recipe. It has always been a hit whenever I cooked it!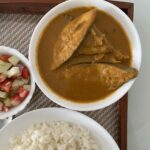 Print Recipe
Mangalorean Fish Curry
Ingredients
Ingredients for Masala Paste
500

Gms

Black / White Pomfret

Cleaned and cut into slices

3/4

Cup

Grated Fresh Coconut

5

Nos

Byadgi Dry Red Chilli

3

Nos

Madras Dry Red Chilli

1

Tbsp

Coriander Seeds

1/4

Tsp

Mustard Seeds

1/2

Tsp

Cumin Seeds

5

Nos

Fenugreek Seeds

1

Small Pinch

Carom Seeds

Optional

3

Nos

Pepper Corns

5

Tsp

Tamarind Paste

Increase / Decrease as per your preference

5

Flakes

Garlic

1/2

No

Onion

1

Sprig

Curry Leaves

1

Tbsp

Coconut Oil

Salt to taste
For the Seasoning
1/2

No

Onion

Finely Chopped

5

Nos

Green Chillies

Chopped

2

Inch

Ginger

Finely Sliced

1

Tbsp

Coconut Oil
Instructions
To make the curry paste
Heat oil in a pan and fry dry chiilies, coriander seeds, mustard seeds, cumin seeds, fenugreek seeds, carom seeds and pepper corns. Keep aside

In the same pan add more oil and fry the onions along with the garlic and curry leaves. Fry until the onions turns slightly brown in colour.

Next slightly roast the grated coconut. Let all the spices come to room temperature

In a grinder add the spices and onion mixture and grind to a fine powder. Next, add the grated coconut along with the tamarind paste and grind to a fine paste, adding water as required.
Cooking the Curry
In a pan pour in the coconut oil and add the curry leaves, ginger and green chillies. Saute for a few seconds and add the onion. Saute for some time.

Add the curry paste and mix well. adjust the thickness of the gravy by adding water. Add salt to taste and bring the mixture to a boil.

After it comes to a boil gently add the fish slices. Make sure the fish has been covered with the curry paste. Integrate well. Do not stir or use the spatula as the fish may break.

Once the fish is cooked through, remove it from the stove.

This curry tastes best with boiled rice along with some salad.